Bienvenidos a la Primera Iglesia Hispana Adventista del 7mo Día de Atlanta. Somos una comunidad cristiana y nos encantaría que te unas a nuestra familia. Para saber más de nosotros te invitamos a navegar en nuestro portal. Además te animamos a estudiar la Biblia, adorar y a orar con nosotros.
Estamos a su servicio,
Pastor: Danilo Cornejo
Horario de nuestros servicios 
Sábado: 9:30 am. Estudio sistemático de la Biblia
Sábado: 11:00 am. Servicio de adoración
Sábado: 5:00 pm. Programa para Jóvenes
Miércoles 8:00 pm. Ven a orar con nosotros
Próximos EVentos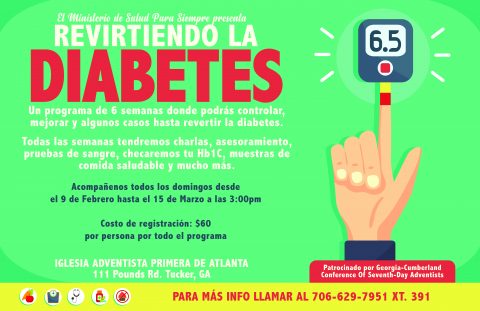 A Worldwide Church Family
The Seventh-day Adventist Church is a mainstream Protestant church with approximately 19 million members worldwide, including more than one million members in North America. The Adventist Church operates 173 hospitals and sanitariums and more than 7,500 schools around the world. The Adventist Development and Relief Agency (ADRA) works within communities in more than 130 countries to provide community development and disaster relief.